Mon Jan 24, 2022
There's a lot to know about the current situation in Ukraine. So below is a link to a multifaceted discussion about Ukraine and the geopolitical risk elements there, including the Turkey connection. Many thanks to the Foreign Policy Research Institute for their ongoing contribution to the subject and their analysis of this risk-fraught area of the world. Let me add that some analysts see Russia-Ukraine and the potential outcome of their conflict as analogous to the China-Taiwan conflict. Some experts claim a new incursion by Russia into Ukraine would encourage China to move on Taiwan.
Image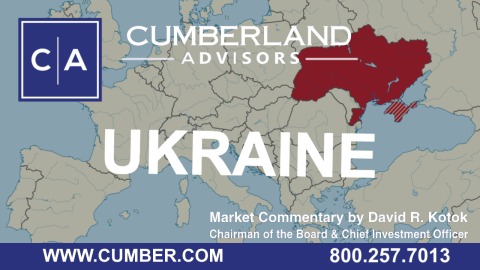 We don't know and have no private insight. We have engaged in briefing conversations and discussions about geopolitical risk as regards both Russia and China. We also have extreme underweight exposures to China and to Russia in our Global Equity ETF strategy. And we have an overweight position in Aerospace-Defense within our US Equity ETF portfolio.
 
We also note our view that sanctions are a weak tool. Besides China and Russia, we point to Cuba, where decades of US sanctions haven't changed the regime in power. Note that the same is true for Venezuela and for other countries.
 
Now here's the link to FPRI's special edition on Ukraine.
 
https://mailchi.mp/fpri/spotlightukrainejan21?e=d541a5c5cd
David R. Kotok
Chairman & Chief Investment Officer
Email | Bio
---
Links to other websites or electronic media controlled or offered by Third-Parties (non-affiliates of Cumberland Advisors) are provided only as a reference and courtesy to our users. Cumberland Advisors has no control over such websites, does not recommend or endorse any opinions, ideas, products, information, or content of such sites, and makes no warranties as to the accuracy, completeness, reliability or suitability of their content. Cumberland Advisors hereby disclaims liability for any information, materials, products or services posted or offered at any of the Third-Party websites. The Third-Party may have a privacy and/or security policy different from that of Cumberland Advisors. Therefore, please refer to the specific privacy and security policies of the Third-Party when accessing their websites.
---
Sign up for our FREE Cumberland Market Commentaries
---
Cumberland Advisors Market Commentaries offer insights and analysis on upcoming, important economic issues that potentially impact global financial markets. Our team shares their thinking on global economic developments, market news and other factors that often influence investment opportunities and strategies.