Sun Jan 23, 2022
The link below takes you to Cumberland's website, where 36 slides depict various United States labor force metrics, before and during the pandemic period. We've used the Beveridge curve concept to create the slides.
Image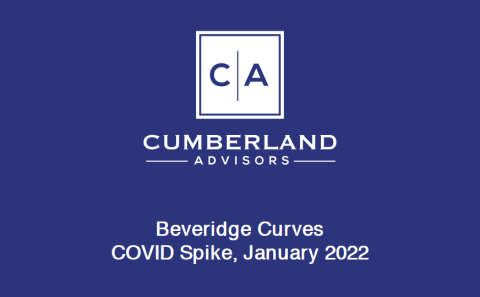 These graphics are purposefully not smoothed. That is intentional so that readers may fully appreciate the size of the Covid shock and its extremes reached in early 2020 and the recovery since. Please note that these are monthly data points. Normally, we would smooth them to reduce the visual impression of volatility. But for today's message, we must break from the "smoothing" convention.
 
Cumberland grants any reader full permission to share the slides and the link as long as attribution is given. All statistical sources are from the national agencies of the United States.
 
If you have trouble with the link or loading the slides (give it time), please email me, and we will provide assistance to any reader.
 
"A picture is worth a thousand words," said Arthur Brisbane (https://en.wikipedia.org/wiki/A_picture_is_worth_a_thousand_words).

Here are 36 of them. And here's the link: https://www.cumber.com/pdf/Commentary/Beveridge-Curves-Covid-Jan-2022.pdf
 
Interested in a quick primer on Beveridge curves? Explore here: https://en.wikipedia.org/wiki/Beveridge_curve
David R. Kotok
Chairman & Chief Investment Officer
Email | Bio
---
Links to other websites or electronic media controlled or offered by Third-Parties (non-affiliates of Cumberland Advisors) are provided only as a reference and courtesy to our users. Cumberland Advisors has no control over such websites, does not recommend or endorse any opinions, ideas, products, information, or content of such sites, and makes no warranties as to the accuracy, completeness, reliability or suitability of their content. Cumberland Advisors hereby disclaims liability for any information, materials, products or services posted or offered at any of the Third-Party websites. The Third-Party may have a privacy and/or security policy different from that of Cumberland Advisors. Therefore, please refer to the specific privacy and security policies of the Third-Party when accessing their websites.
---
Sign up for our FREE Cumberland Market Commentaries
---
Cumberland Advisors Market Commentaries offer insights and analysis on upcoming, important economic issues that potentially impact global financial markets. Our team shares their thinking on global economic developments, market news and other factors that often influence investment opportunities and strategies.