Thu Jan 20, 2022
When she was testifying at her US Senate confirmation hearing, Fed Governor Lael Brainard fielded questions about the Fed and its "climate change" policy. This is a hot subject in the monetary economics and central banking world. One side of the debate says that the Fed should keep out of this arena. The other side is a mixed bag of recommended ways for the Fed to "address" climate change.
Image
Fact: The Fed cannot fix global warming. So advocating for the Fed to do so is a flawed argument.
Second fact: The Fed can and must address major risks in financing the US economy and in risk management by banks and financial institutions. That is what Fed oversight and financial stability is all about. Gov. Brainard noted how in the last five years we have experienced about $630 billion in climate change-related damage. That is a huge number, and it is expected to grow, since the global climate change problem will intensify for years to come.
Gov. Brainard's discussion about financial stability and the Fed has resonance with this writer. Climate change risk comes in various forms. For example, Florida has about $7 trillion in real estate that is directly exposed to rising sea levels. The Mexico Beach, Florida Cat 5 hurricane hit was a warning. The near misses in Miami and Tampa were warnings. And the warnings are not just about hurricanes or tornadoes or rising sea levels; they reflect what we are facing globally with climate change.
I saw some of the evidence with my own eyes in Colorado last summer. Here's a photo of a helicopter dropping retardant on a forest fire in Colorado.
 
Image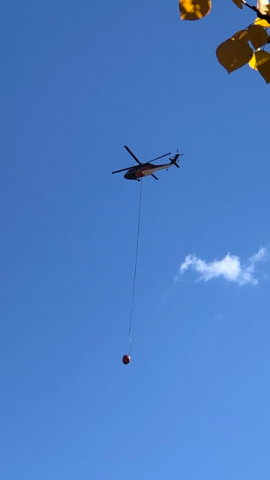 I took it with my iPhone from the back deck, as I sat there and watched an aerial display of diverse Forest Service aircraft ranging from this helicopter to a 747 spiraling down from 30,000 feet and lining up to drop a very large load of retardant. That fire in my proximity fire was one ridgeline away, and we were on notice for a possible evacuation order. Fortunately, a wind shift changed the fire's direction, and we didn't have to evacuate.
This personal story can be repeated by millions of people in the Western states. Everyone I speak with has a personal fire story now. Will those who have faced fires translate into a new political cohort that demands changes? And will that impact the economy and the financial markets? We will see. Our portfolio overweight of the climate sensitive sector ETFs suggests that it will. Let me again remind our Florida-based friends, that Florida coastline real estate exposure to a rising sea level is valued at about $7 trillion.  Some of it is visible outside my widow.
This following headline reminds us that we cannot put climate change adaptation and mitigation on the "back burner": "More than 40 percent of Americans live in counties hit by climate disasters in 2021" (https://www.washingtonpost.com/climate-environment/2022/01/05/climate-disasters-2021-fires/)
We recently saw more climate change impact with the December fire in Boulder, Colorado. We asked Bob Bunting, CEO of the Climate Adaptation Center (CAC), for a climate change analysis regarding the Boulder fire, which destroyed nearly one thousand homes. Bob is an expert on the effects of climate change on human systems, and he has personal history in Boulder. His explanation of how a weather pattern induced by climate change set up the conditions for the fire is both fascinating and frightening. His guest commentary follows, and we thank him for it.
Bob is in the fundraising period for a challenge grant for the CAC. We strongly support his efforts, and I am one of his website sponsors. Bob is also a speaker for the Global Interdependence Center on climate change issues. We hope you will support him.
Here is the CAC website link: https://www.theclimateadaptationcenter.org. Thank you.
Now let's get to Bob Bunting and the extraordinary Boulder, Colorado, fire.
__________
The Catastrophic Boulder Fire
By Bob Bunting, CEO, Climate Adaptation Center
Everyone is aware of the apocalyptic fire near Boulder Colorado on December 30, 2021, the second climate-related billon-dollar loss in December, following the unprecedented December 12th tornado outbreak in the Mid-South. (See "Historic December Tornado Outbreak," https://www.theclimateadaptationcenter.org/2021/12/17/historic-december-tornado-outbreak/.)
Sadly, the Boulder-area fire was the 20th billion-dollar weather/climate event of 2021 and the 42nd since the dawn of the 2020s, capping off a two-year blitzkrieg of such events in the US. Climate warming is a key contributor for this terrible disaster that took place just a few miles from the acclaimed National Center for Atmospheric Research (NCAR) and the NOAA Atmospheric Research Center in Boulder Colorado, where I spent a large part of my career. Within sight of these acclaimed climate research centers, a fire covering nine square miles, fanned by wind gusts of 115 mph, engulfed thousands of homes and businesses, leaving two dead (a miracle by any standard), 1000 homes burnt to the ground, and hundreds of other businesses and homes damaged.
The cause of the fire is still being investigated. The likely source is either a power line blown down in the 100-mph wind gusts or a fire of man-made origin. Regardless of the how the fire began, the preceding conditions and weather events played leading roles.
Before we look at the particulars of this event, the climate backdrop is quite important to understand. Colorado has not escaped the historic drought in the West. Perhaps the biggest climate event of the year in 2021 was the intensification of the decades-long drought that saw Lake Mead and other mega reservoirs in the West recede to historically low capacities. At the Hoover Dam, for example, water levels dropped to the lowest point since the dam was built during the Depression. The Western drought is worse than the one that occurred in the 1930s and has no parallel in the past 500 years!
Although ample winter and spring snows last year along Colorado's Front Range dented the long-playing drought, from June through December the National Weather Service in Boulder reported only 1.08 inches of precipitation, with a total of 1.5 inches of snow. Both these readings were records of the worst kind. In fact, Death Valley, CA, had more precipitation during this period than Boulder did.
 
Image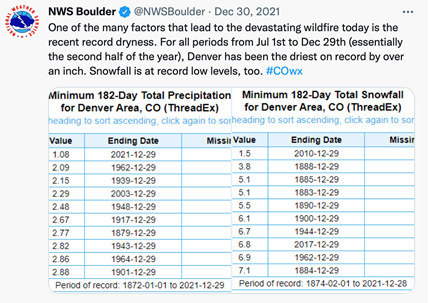 It is no wonder that the Front Range had fallen back into "extreme" drought before the fire ignited.
 
Image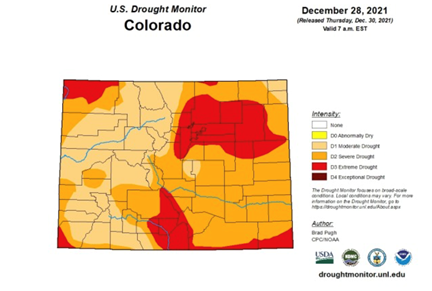 To make matters worse, the 28 days preceding the fire saw temperatures at historic high levels, with 7 days at least 20°F warmer than normal. Crazy!
 
Image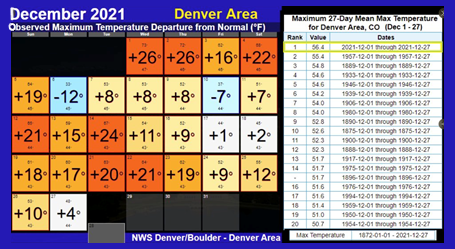 In the past 150 years, the average temperature from September through December of 2021 was the second warmest. Colorado is warming fast, and fall is the season that is warming fastest as the climate changes.
 
Image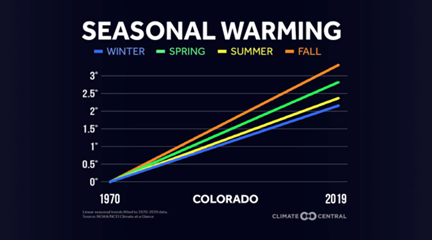 The jet stream, separating the polar vortex that forms over the northern latitudes in winter from warmer air in the tropics and lower midlatitudes, has been moving northward and has weakened since climate warming kicked in about 1970.
With the poles warming twice as fast as the tropics are, the temperature difference between the two has been decreasing: The result of that trend is that the weakened jet stream tracks farther north than it once did.
The implications from this shift are enormous! The drought in the West has been coincident with a more northerly and weaker jet stream because the so-called atmospheric rivers bringing copious moisture into the West in winter have now become unreliable as the moisture shifts northward into Canada. Many more winters in the US West are experiencing much smaller snowpacks than accumulated back in the day!
In the case of the Boulder fire a more northerly jet stream had dire consequences. When the jet stream is in its normal position at about 40°N, low-pressure systems form to the lee side of the Rockies just south of the jet stream axis, i.e., in Southeast Colorado.
 
Image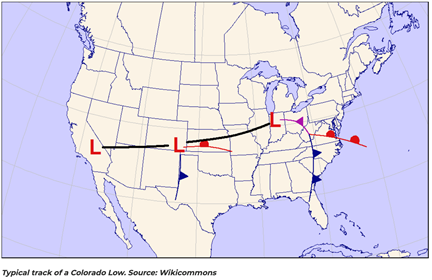 Remember, the winds around low-pressure areas move counterclockwise. Areas north of the low-pressure center experience easterly winds. The lows associated with copious moisture or atmospheric rivers coming off the Pacific Ocean bring in the moisture supplies water for the West.
In Colorado, the easterly winds are almost essential. They drive the moisture upslope and create heavy snow in the Front Range and the Eastern Colorado Rockies. November and December are ordinarily heavy snow months here.
On December 28th, the jet stream was located over central Wyoming. Record warmth in Colorado meant that the demarcation between warm and cold moved hundreds of miles north of its past normal position. This shift, which is happening more and more in our climate-warmed world, is creating havoc.
Image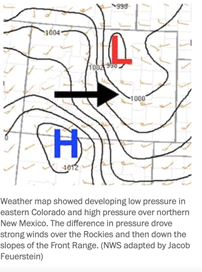 The shift in the jet stream meant that the usual low-pressure area formed in Northeast Colorado instead of Southeast Colorado. Since low-pressure systems rotate counterclockwise, the usual easterly component winds shifted into Wyoming, where snow was falling. Westerly winds dominated in Colorado, especially over the southern two thirds of the state, including the Boulder Area.
When westerly winds blow and the low pressure is intensifying on the plains, as was the case on December 28th, the winds descend from the top of the Continental Divide, where the mountains soar to 12,000–14,000 ft. in elevation, into the Front Range, which stands at some 5000 to 6000 ft. in elevation. Downslope winds, known as Chinooks, are warm, exceeding dry, and rapidly accelerating.
 
Image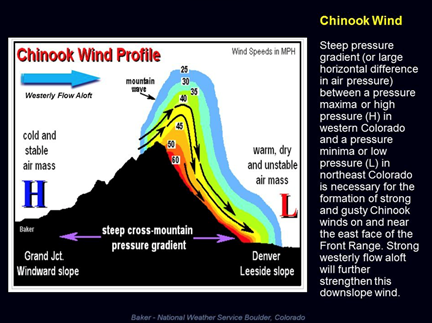 Climate warming, in short, set up the disaster you are about to see.
 
Image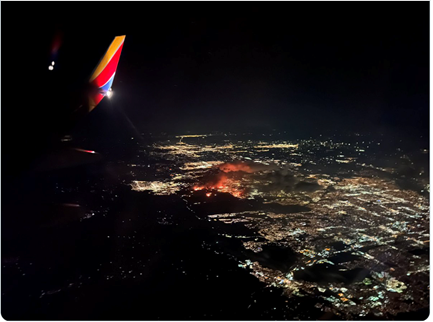 The cities of Superior and Louisville turned to ashes as 100-mph winds and bone-dry conditions set off a firestorm.
Boulder weather radar showed the smoke plume heading eastward in the high winds, carrying burning chunks of wood and debris downwind, expanding the fire.
 
Image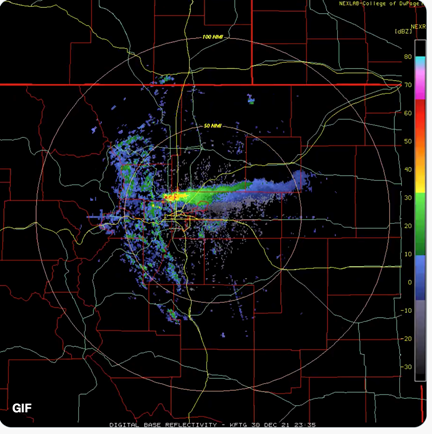 MAXAR Aerospace, a company I co-founded, provided this next satellite image. The top panel shows a pre-fire image. The bottom panel is a late afternoon image of smoke and fire. The bright areas are actual flames.
 
Image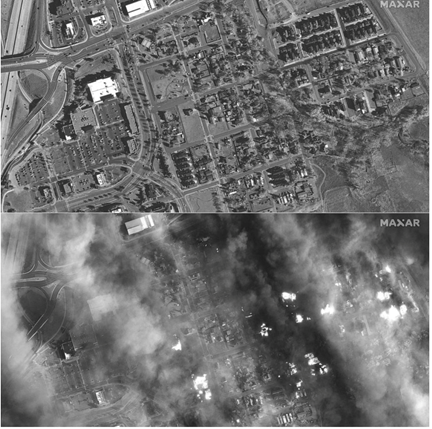 Boulder County provided this amazing photo early in the night from a slightly elevated vantage point.
 
Image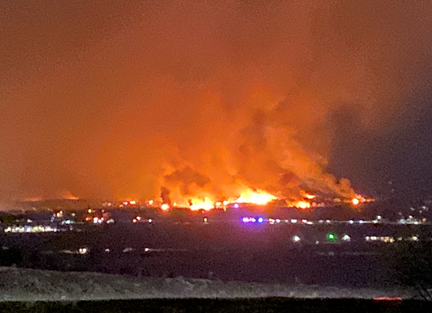 And the Marshall Fire drone provided this heartbreaking four-minute video (view via this URL or below): https://youtu.be/dgP0_9q6VqY
What is it going to take to understand that there is no place safe from the accelerating climate warming we are experiencing and recording for all to see? Folks, today's climate is warming 10 to 50 times faster than we've seen happen across millions of years of climate records collected from ice cores, sediments, etc. What's happening is not normal!
Communities have no choice but to adapt and to help mitigate the worst impacts of climate disruptions at least partially caused by and enhanced by a warming climate. That is what we are up to at the Climate Adaptation Center.
Our website is loaded with articles like this one. They are meant for you! You can't do your duty as a citizen and create change through your activities as a human being until you are informed and then use the information to help leaders in business, academe, and government plan and act to adapt and to mitigate the worst impacts from climate warming. No matter what we do now to slow down the emission of greenhouse gases into the atmosphere, the climate will warm for at least another lifetime!
We have no choice but to adjust. Building codes, zoning, building designs, population loading, infrastructure, and much more need to change. The job won't be done unless you are informed and act yourself.
The CAC (https://www.theclimateadaptationcenter.org) is unique: No other organization is translating science into information to inform and accelerate climate adaptation and mitigation.
At the CAC, we operate on donations from individuals though our membership program. It takes 250 members to support each CAC. While the first is based in Sarasota, FL, we hope to have one in every region of the US soon. Every region has different climate disruptions. The CAC will lead the conversation and help with the different issues that each region faces.
Many ask what they can do. The first and easiest thing is to become a member of the CAC. Please, do it now! Here's how to become a member: https://www.theclimateadaptationcenter.org/partners/. A benefactor has generously offered a challenge grant of $50,000 if memberships generate $200,000 of support for the CAC. You can make it happen! Your donations are tax deductible.
Thank you for your time and support,
Bob Bunting, CEO
Climate Adaptation Center
Image

---
 

"In today's world of immediate news, often influenced by the most recent political leadership, Bob Bunting, now of the Climate Adaption Center, has provided a consistent and stable voice on climate change for multiple administrations. Bob understands this is not a sprint to the next political agenda, but a marathon to provide quality of life for generations to come."
- Sara Hand, CEO Spark Growth

 
---
Links to other websites or electronic media controlled or offered by Third-Parties (non-affiliates of Cumberland Advisors) are provided only as a reference and courtesy to our users. Cumberland Advisors has no control over such websites, does not recommend or endorse any opinions, ideas, products, information, or content of such sites, and makes no warranties as to the accuracy, completeness, reliability or suitability of their content. Cumberland Advisors hereby disclaims liability for any information, materials, products or services posted or offered at any of the Third-Party websites. The Third-Party may have a privacy and/or security policy different from that of Cumberland Advisors. Therefore, please refer to the specific privacy and security policies of the Third-Party when accessing their websites.
---
Sign up for our FREE Cumberland Market Commentaries
---
Cumberland Advisors Market Commentaries offer insights and analysis on upcoming, important economic issues that potentially impact global financial markets. Our team shares their thinking on global economic developments, market news and other factors that often influence investment opportunities and strategies.