Sat Jan 22, 2022
Image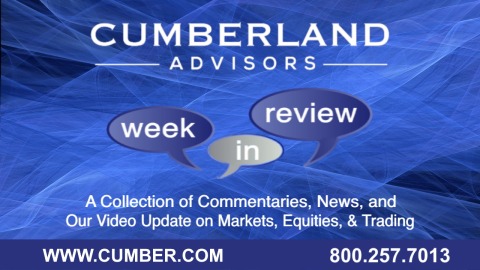 Thank you for watching Cumberland Advisors' Friday, January 21, 2022 Week In Review, an end-of-week update on market conditions, equities & bonds with with Matt McAleer, Executive Vice President & Director of Equity Strategies, and John Mousseau, President, CEO, & Director of Fixed Income.

Matt McAleer & Equities
Tough week!

More damage to growth but value catching up

Late day selloffs disappointing, with capital leaving the market vs rotating sectors

IWM showing breakdown out of long consolidation

Step back and slow down into high velocity drawdowns
John Mousseau & Fixed Income
Bond yields down a little, reacting to equity markets

Increased muni outflows in high yield space

Looking towards next week's housing price index numbers

Rents rising could broadcast even higher inflation

Please send any feedback from today's email/video to Matt McAleer. You can reach him at:
-Link to Matt's Email: [email protected]
-Link to Matt's Twitter: https://twitter.com/MattMcAleer4
-Link to Matt's LinkedIn: https://www.linkedin.com/in/matthew-c-mcaleer/
-Call Matt: (800) 257-7013 ext. 346

Other questions or comments? Email us at [email protected] or give us a call at (800) 257-7013
---
Long-Term Economic Consequences
of Pandemics – The Big Picture
A recent missive by Barry Ritholtz examines the long-term economic consequences of pandemics and a sample of this work is below along with a link to the "Big Picture."
"I was speaking with my fishing buddy David Kotok recently about a research project he has been working on: 'What are the long-term economic consequences of pandemics?' His research goes back to the ancient Greeks, and I'll post something when his paper comes out. But Kotok pointed me towards a fascinating white paper from the Federal Reserve Bank of San Francisco, which studied the impact of 19 pandemics stretching back to the 14th century.
"What did they find?
"Significant macroeconomic after-effects of pandemics persist for decades, with real rates of return substantially depressed, in stark contrast to what happens after wars. Our findings are consistent with the neoclassical growth model: capital is destroyed in wars, but not in pandemics; pandemics instead may induce relative labor scarcity and/or a shift to greater precautionary savings.
This is not hindsight bias, but rather, what the FRBSF published in June of 2020, long before wages rose significantly and labor became as scarce as it is today."
Read more: https://ritholtz.com/2022/01/economic-consequences-of-pandemics/
---
Explore Events & Webinars at
the Global Interdependence Center
Image

"We engage renowned experts in their fields to identify emerging economic, financial, and social issues vital to the interdependent global community and share our findings with policymakers and the press worldwide. Our programming promotes global partnerships among government officials, financial ministers, businesses leaders and academic researchers." -GIC
Explore here: https://www.interdependence.org/events
Cumberland Advisors is an annual sponsor of GIC.
---
Links to other websites or electronic media controlled or offered by Third-Parties (non-affiliates of Cumberland Advisors) are provided only as a reference and courtesy to our users. Cumberland Advisors has no control over such websites, does not recommend or endorse any opinions, ideas, products, information, or content of such sites, and makes no warranties as to the accuracy, completeness, reliability or suitability of their content. Cumberland Advisors hereby disclaims liability for any information, materials, products or services posted or offered at any of the Third-Party websites. The Third-Party may have a privacy and/or security policy different from that of Cumberland Advisors. Therefore, please refer to the specific privacy and security policies of the Third-Party when accessing their websites.
---
Sign up for our FREE Cumberland Market Commentaries
---
Cumberland Advisors Market Commentaries offer insights and analysis on upcoming, important economic issues that potentially impact global financial markets. Our team shares their thinking on global economic developments, market news and other factors that often influence investment opportunities and strategies.