An excerpt from the Philadelphia Inquirer's "

As nightmare in Ukraine unfolds, investors should sit tight"
by Erin Arvedlund - Published Feb 24, 2022
Will the Fed still raise rates?
Quoted: Patricia Healy, CFA
Image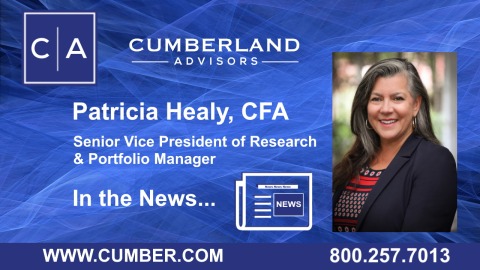 Yes, say bond investors — but perhaps only a 0.25% increase in March, instead of the expected 0.50% hike that's been forecast.

"More Fed governors will be speaking [Thursday and Friday], and it's possible we will see the central bank raise rates 0.25% instead of 0.50%" as its first hike, said Patricia Healey, senior vice president of research and portfolio manager with Cumberland Advisors.

As for Russian bonds, "We get notifications from custodians and at least one said 'these securities are restricted' and they were all Russian bonds. So some institutions are writing down the value of their Russian bonds.

Read more at the Philadelphia Inquirer: https://www.inquirer.com/business/stock-market-selloff-after-russia-invades-ukraine-20220224.html
---
Links to other websites or electronic media controlled or offered by Third-Parties (non-affiliates of Cumberland Advisors) are provided only as a reference and courtesy to our users. Cumberland Advisors has no control over such websites, does not recommend or endorse any opinions, ideas, products, information, or content of such sites, and makes no warranties as to the accuracy, completeness, reliability or suitability of their content. Cumberland Advisors hereby disclaims liability for any information, materials, products or services posted or offered at any of the Third-Party websites. The Third-Party may have a privacy and/or security policy different from that of Cumberland Advisors. Therefore, please refer to the specific privacy and security policies of the Third-Party when accessing their websites.
---
Sign up for our FREE Cumberland Market Commentaries
---
Cumberland Advisors Market Commentaries offer insights and analysis on upcoming, important economic issues that potentially impact global financial markets. Our team shares their thinking on global economic developments, market news and other factors that often influence investment opportunities and strategies.
Patricia Healy, CFA
News Source
Philadelphia Inquirer