Robert Eisenbeis, Ph.D. is quoted in the May 30, 2022 Institutional Risk Analyst post, "QT Means Short Credit Risk" by Chris Whalen.
Image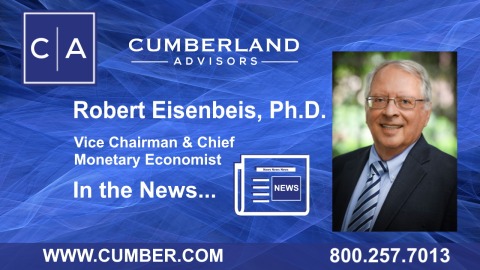 Excerpt below.
As we've noted, the mark-to-market on the Fed's $2.7 trillion portfolio of mortgage backed securities is easily minus $500 billion, a sum that is actually a loss to the taxpayer. When we said a while back that the Fed's actions with QE are illegal, we refer directly to the fact that the Federal Reserve Board is spending money in a market speculation without authority from Congress.
Robert Eisenbeis of Cumberland Advisors told The IRA back in December of 2017 ("The Interview: Bob Eisenbeis on Seeking Normal at the Fed."
"The Fed almost by definition cannot make a profit. It baffles me how people inside the system can fail to see the accounting reality here. The Fed issues short term liabilities to buy Treasuries taking duration out of the market. The Treasury makes interest payments to the Fed who takes out its operating costs, including interest payments on reserves and returns the remainder to the Treasury. If this intra governmental transfer were settled on a net basis like interest rate swaps, there would always be a net payment from the Treasury to the Fed."
And the Fed now also stands to lose money for the Treasury on QE, a fact we think is rather remarkable. Since the national Congress has chosen to treat the remittances from the Fed as a "profit" for the purposes on the federal budget, perhaps it does not matter in Washington. It certainly matters for lenders, investors and risk managers around the world.

Read the full piece at The Institutional Risk Analyst website: https://www.theinstitutionalriskanalyst.com/post/qt-means-short-credit-risk
---
Links to other websites or electronic media controlled or offered by Third-Parties (non-affiliates of Cumberland Advisors) are provided only as a reference and courtesy to our users. Cumberland Advisors has no control over such websites, does not recommend or endorse any opinions, ideas, products, information, or content of such sites, and makes no warranties as to the accuracy, completeness, reliability or suitability of their content. Cumberland Advisors hereby disclaims liability for any information, materials, products or services posted or offered at any of the Third-Party websites. The Third-Party may have a privacy and/or security policy different from that of Cumberland Advisors. Therefore, please refer to the specific privacy and security policies of the Third-Party when accessing their websites.
---
Sign up for our FREE Cumberland Market Commentaries
---
Cumberland Advisors Market Commentaries offer insights and analysis on upcoming, important economic issues that potentially impact global financial markets. Our team shares their thinking on global economic developments, market news and other factors that often influence investment opportunities and strategies.
Robert Eisenbeis, Ph.D.
News Source
The Institutional Risk Analyst