The 50-person gathering at Leen's Lodge encompassed diverse political views, financial and economic specialties, and asset class focused from cannabis to currency trading, real estate to debt of all types, stock markets and ETFs, derivatives and futures, and more. Over $1 trillion in managed assets were represented as we gathered for each informal meal. No lectern, no PowerPoint. The China Panel and the MMT panel are public and in the social media domain and the press and public are free to use the video footage and quote the speakers. Other discussions were conducted under the Chatham House Rule.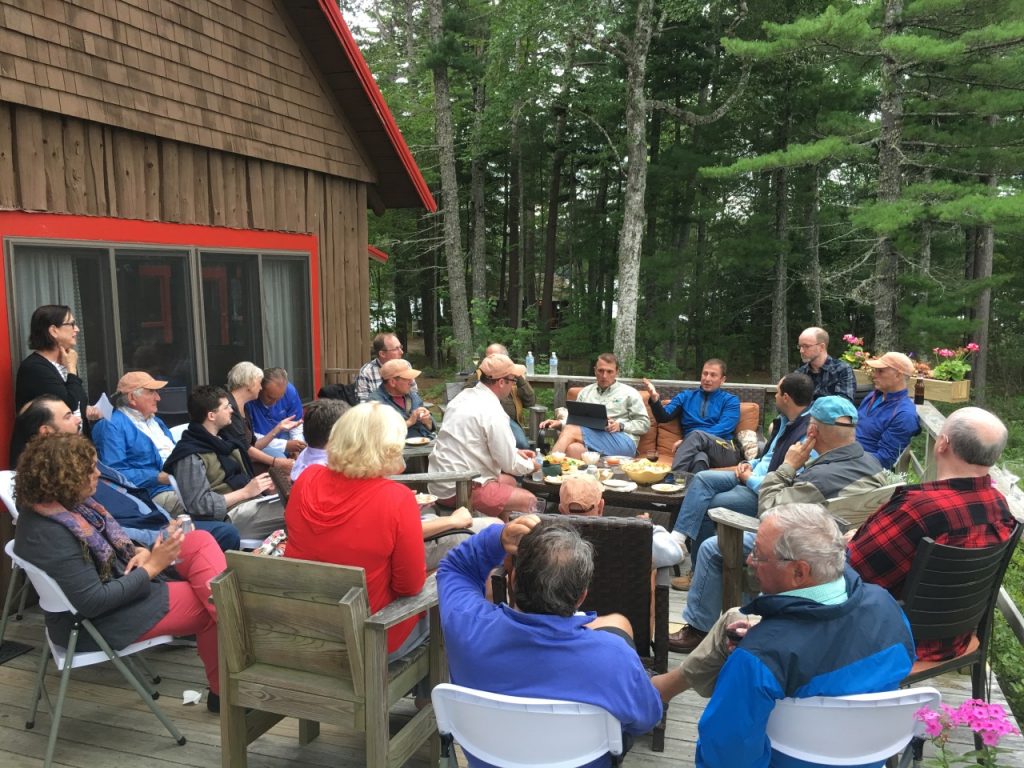 There are some takeaways:
1. Regardless of the attendees' political views, Peter Navarro's advice to Trump is seen as a disaster. In a poll, 1 supported Navarro, 3 weren't sure, and 36 disapproved. When asked more generally about Trump's trade war policy, the group was divided, with about 3 opposed to Trump for each supporter.
2. The damage incurred by Navarro's advice and Trump's policy was cataloged in detail, and it is ugly. It is spreading and appearing in more and more evidence and anecdotes.
3. Border and immigration policies were discussed in detail and with data. The group's outlook is bleak. Nearly all fault a dysfunctional Congress for its repeated failures. Here the group leaps over partisanship. Democrats and Republicans are guilty.
4. Global debt expansion and central bank credibility is a major concern. I refer readers to the MMT panel for a clear, multidimensional discussion of MMT and the Fed's dilemma: Camp Kotok MMT panel. My personal takeaway is that the Fed needs to step up its game with regard to its communications strategy. Most agreed that putting a name with each dot in the dot plot would be an easy improvement to make. If the Fed had a clear policy statement against negative interest rates, that assurance would help to reduce risk premia. The gathering views negative rates as a spreading financial malignancy. The varied forecasts about proliferating negative rates and their global effects are sobering.  Kotok note: adjusted for most recent inflation reports, the US treasury yield curve is already negative when computing real yields.
5. The China panel packed an extraordinary amount of valuable information into a half hour and is well worth the time you'll spend to view it: https://youtu.be/Sff0AGPrIJQ
This 2019 Camp Kotok talk session features panelists Michael Drury (Chief Economist for McVean Trading & Investments, LLC.), Jonathan D. T. Ward (Founder of Atlas Organization), & Leland Miller (CEO China Beige Book), all offering their take on U.S.-China relations. The panel and audience Q&A are guided by moderator, Lisa McIntire Shaw.
Beyond the direct China-US trade war, attendees discussed contagion risk, Hong Kong, Argentina, capital flight, and alternative choices for storing value in a world of discredited fiat money, among other issues. Most attendees expressed gratitude for an assembly that allowed for free and open exchanges under the Chatham House Rule.
Here are three questions for readers to consider:
1. How would you restructure your investment portfolio if you really believed that the global high-grade sovereign debt nominal yield would average 1% or lower for many years?  That implies real yields would be negative worldwide for a prolonged period.
2. How would you restructure your investment portfolio if you believed that high-grade federal, state, and local debt yield would also average 1% or lower for many years? This question implies that the entire yield curve (term structure) is under 1%.  What are implications for munis, mortgages, swaps, forwards, etc.
3. The third question involves geopolitical risk and personal safety. At Camp Kotok we had private conversation on this subject. The results are alarming as many of us have altered global travel plans. I'm one of those who has done so. So here's the question. Think about the world that you see. Then make a list of every place you have visited during your lifetime. This takes a few days for older and well-traveled folks as memories are rekindled. Then look at the list and ask which of these destinations you would visit today and which not. Add this consideration: Which would you visit only with ample security and protection?
Lastly, Dave Nadig drafted an exquisite description of Camp Kotok and has given us permission to share it. Enjoy: https://www.etf.com/sections/blog/camp-kotok-wall-street-woods
We also have permission to share Brent Donnelly's thoughts on Camp Kotok, 2019: Brent-Donnelly's-Notes-from-Camp-Kotok-2019.pdf
David R. Kotok
Chairman of the Board & Chief Investment Officer
Email | Bio
---
Links to other websites or electronic media controlled or offered by Third-Parties (non-affiliates of Cumberland Advisors) are provided only as a reference and courtesy to our users. Cumberland Advisors has no control over such websites, does not recommend or endorse any opinions, ideas, products, information, or content of such sites, and makes no warranties as to the accuracy, completeness, reliability or suitability of their content. Cumberland Advisors hereby disclaims liability for any information, materials, products or services posted or offered at any of the Third-Party websites. The Third-Party may have a privacy and/or security policy different from that of Cumberland Advisors. Therefore, please refer to the specific privacy and security policies of the Third-Party when accessing their websites.
Sign up for our FREE Cumberland Market Commentaries
Cumberland Advisors Market Commentaries offer insights and analysis on upcoming, important economic issues that potentially impact global financial markets. Our team shares their thinking on global economic developments, market news and other factors that often influence investment opportunities and strategies.